Overhead maintenance car, "Tårnvogna"
---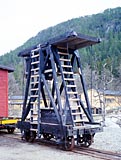 The Prototype
This car was used during the installation of the overhead wire on the Thamshavn Railway in 1907. It was in use as late as 2001 for maintenance work. It is now retired and placed in the museum at Løkken.
The builder is unknown, it might have been built locally in the railway´s shops. No drawings have been found. The model is based on my own measurements and photos.
The model
The model is almost entirely built in basswood. Even when using quality basswood as Kappler, the parts need to be lightly sanded before staining. The parts were stained with india ink. Untreated wood parts were stained with A-West-Weather it. Wood parts were glued with white glue. When glueing woodparts its important to pre-glue the joints with dilluted white glue.
The metal fittings are a combination of hand-filed and photo-etched parts. Some of the parts are formed in brass wire. The eyebolts are all handmade.
The brass parts were treated with Blacken-It. The springs were handmade by forming soft metal wire over the threads of a machine screw.
The couplers are made by Erik Walde (Contact info on the links page). These beautiful brass couplings are working, and a really close match for the TB prototype. It is not an oversight that the car only has a coupler hook in one end. The TB never turned its equipment, and their equipment had only hooks on the northern end.
The wheels are from Alan Gibson. This model was built before we obtained the Erik Olsen wheelsets. The Gibson Wheelsets are made for S-scale standard gauge. I will probably not change them, since this is basically a static model.
A handful of GrandtLine NBWs and Old Pullman brass rivets were also used.
Comments or questions? Vent your feelings in our discussion forum >
---