Wheelsets in Om
---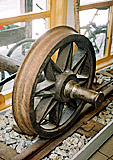 Maybe the biggest challenge when selecting a relatively obscure prototype is finding wheelsets and driving mechanisms.
The prototype
The "standard" wheels for the equipment on the Thamshavnban Railway is a star-spoked design with a diameter of 750-800 mm. All the ore cars, passenger coaches and a motor car ("The royal car") used this type of wheels.
The Thamsshavn Railway was except for the gauge built to 1435mm gauge standards. (So called class II railway standards in norwegian railway terminology), so the threads of the wheels are quite heavy.
At first, we searched for commercial products. Alan Gibson, Slater and Walde wheels were obtained, but none of them really cut it. Nothing wrong with the products per se, but what we were looking for were spoked wheels with a diameter of 17.5 mm and a gauge of 22.22mm, and we found nothing that matched these measurements.
The model
In the end, we bit the bullet and contacted a Danish master model builder, Erik Olsen. He has built a series of beautiful cars in 0-scale, including finescale wheelsets. He took up the challange, and at a reasonable price.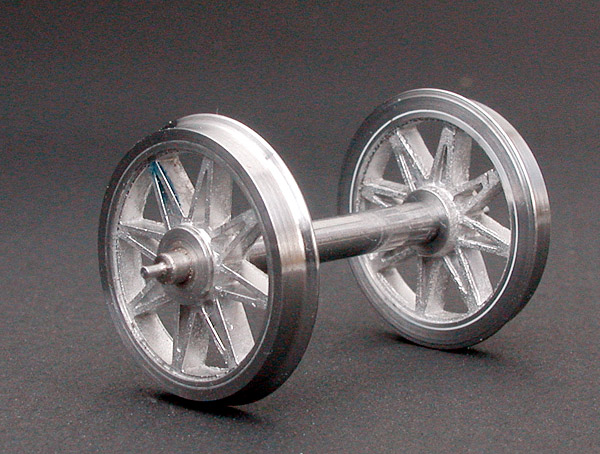 A set of fine scale standards for 0m were drawn up. These are based on Olsens Proto:45 standards. The whelsets have centers cast in white metal. The threads are machined in steel. A detailed article (in Danish) on building these wheels can be found on Eriks homepage. We have now obtained wheels for 10 cars. With our pace of building rolling stock, this should be sufficient for the next five years or so...
Originally we planned to use these wheels for the Westinghouse engines as well. This is almost correct for a post-war version of the engines. (See the Westinghouse page for more info) But we plan all our models to be pre war versions, and using incorect wheels startedd to bug us a bit. Olsen then offered to produce a correct wheel for the engines. The wheels for the engines are slightly larger, and has solid spokes instead of the star spokes.
At the time of writing, these wheels are under construction. Wheelcenters have been cast in brass by Korea Brass. We hope the wheelsets will be ready this autumn.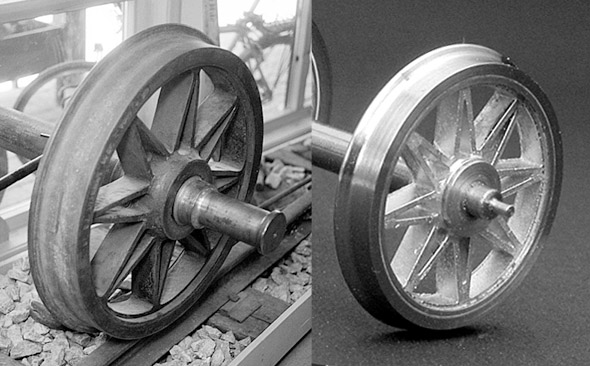 Download drawing of wheelset in PDF-format>
---